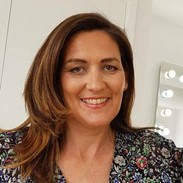 Deborah Lethby
Deborah is a BANT Registered Nutritional Therapist who graduated from the London College of Naturopathic Medicine (CNM) in 2007.  Deborah uses an evidence-based approach, supporting her clients with personalised nutrition and lifestyle advice, in order to help them with their health challenges.
Deborah is a specialist in supporting women's health in midlife and also has a keen interest in the link between food and its effects on our brains – be it our mood, anxiety or cognitive function.  She has discovered through her training, personal experience and that of her clients, the wonderful power that food has not just on our bodies, but also our minds.  Optimising aspects of our health such as hormones, gut health, and lifestyle factors can greatly impact how we feel mentally as well as physically, and she wants to share that knowledge with her clients.
Deborah's aim when working with clients is to find the root cause of their health issues, and this may include recommending functional testing if appropriate.
Deborah continues to undertake regular training to keep up-to-date with the latest scientific research in the field of nutrition so that she can offer the best advice to her clients.
For more information, see Deborah's website at www.nutrissential.co.uk where you can book a free 'no obligation' 30 minute call to find out how she can help, or send her an email deborah@nutrissential.co.uk