Our Physiotherapists work on a Monday, Wednesday, Thursday, Friday and Saturday.  Joanne can do home visits if needed and is highly qualified in traditional Physiotherapy as well as being a Neuro Physio and also able to do wheel chair assessments.
How can Physiotherapy help?
Physiotherapy helps to restore movement and function when someone is affected by injury, illness or disability. It can also help to reduce your risk of injury or illness in the future.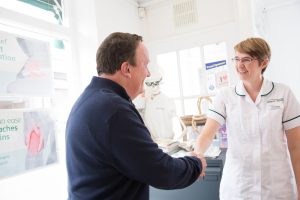 Consultation
The first time you see a Physiotherapist they will ask you to fill out a form detailing your medical history. This gives the Physiotherapist an idea of your general health. Several questions will then be asked about your condition to try and understand the problem and if Physiotherapy is the most appropriate.
Examination
An examination would then be performed to find out what is wrong before a treatment plan would be explained.
Treatment
Treatment can involve massage, ultrasound, rehabilitation exercises, the use of a wobble board or weights depending on what is wrong.
Fees
Initial Chat (15 mins) £ FREE
First Appointment (1 hour) £75
Subsequent treatments (30 mins) £47
Home visits available on request please ask for a price.
For further information please call us on 01763 878087.