Jacqui Smith's Pilates Sessions
Jacqui will be running 3 different pilates classes at Attend2Health including a seated class for those who find it hard to get on and off the floor.
Wednesday 11:30am
A mat based Pilates Class working on core strength and the seven principles of human movement – hinge, plank, push, pull, squat, lunge and rotation
Thursday 1:30pm
Trigger Point Pilates – A pilates class concentrating on relieving tight sore muscles – or you may prefer to be more specific
Thursday 2:45pm
Seated Pilates – A Seated Pilates Class for those not wanting or unable to lie on the floor working on core strength and seven principles of human movement
Emma Lovelock's Pilates Class
Friday 9:30am
The Pilates classe will be mixed level suitable for beginners up to more experienced clients.
All exercises within the class will be taught with a variety of levels at every stage to ensure you are working within your capabilities.
Alterations can be made to all exercises to accommodate any issues or limitations, however you will need to be able to get to the floor and back up again to be able to participate in the class.
Pregnant and Post-natal clients are also welcome.
Classes will be limited to 6 people so that a lot of attention can be given to each person.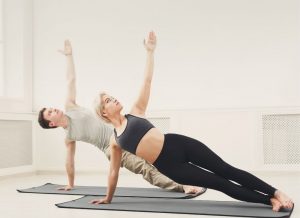 One to One 45 minute Sessions
A chance to focus on your technique in closer detail. If you have an injury you are recovering from,  a specific limitation that means a group class isn't quite right for you, or maybe you have an athletic event you are training for and you want a more personalised programme a 1:1 session is the perfect way to maximise your results.